PRMC Paramedic Named 2022 Monarch Caring and Community Award Recipient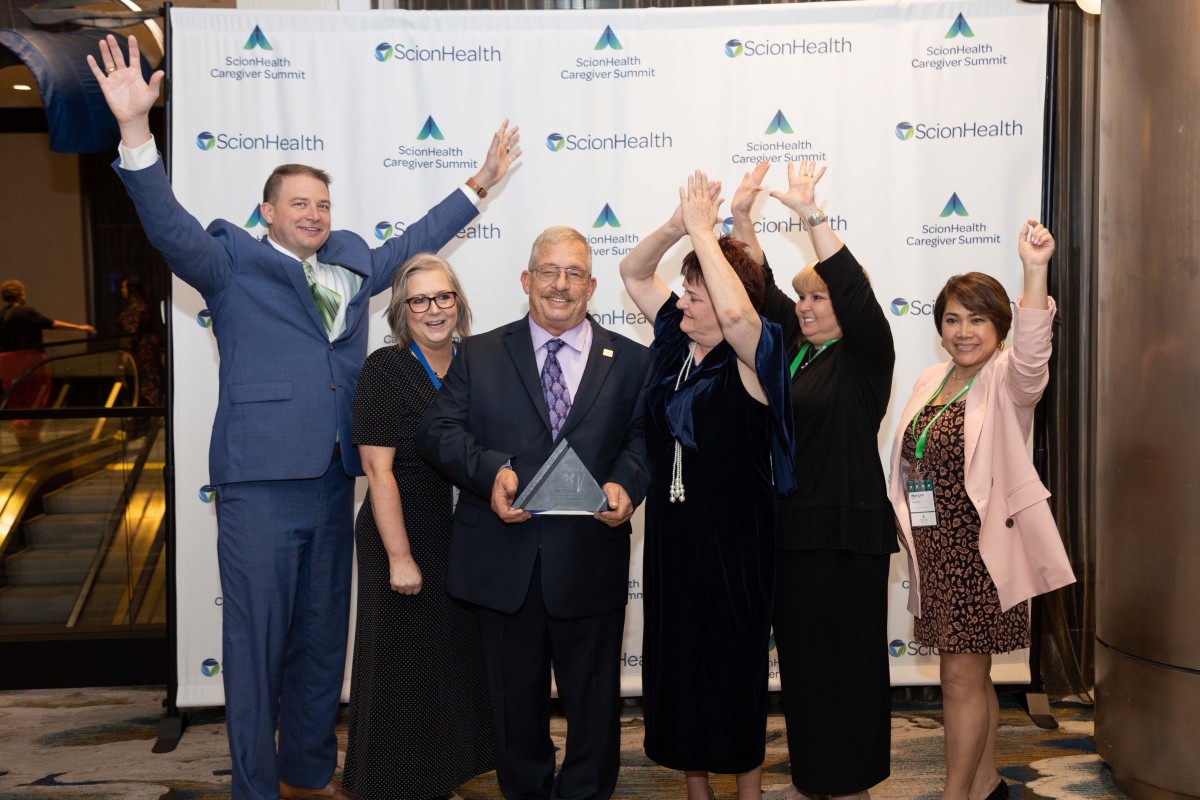 Texas Paramedic Earns ScionHealth's Monarch Award, Company's Highest Caregiver Honor
When the chief nursing officer at Palestine Regional Medical Center (PRMC) recently asked team members to define customer service during a training session, one team member responded, "Be like Doug."
"Doug" is Doug St. Clair, a paramedic on the hospital's EMS team. He is often the first responder to arrive by ambulance when a resident of his Texas community of 60,000 calls 911 with a medical emergency.
His care and compassion are well-known in the Palestine area, and a model to emulate for his team members at the hospital.
"Doug has humbly served the patients of our community on an ambulance for over 30 years," wrote Roy Finch, CEO of PRMC, in his nomination of St. Clair for the Monarch Caring and Community Award, the highest honor bestowed upon caregivers by PRMC's parent company, ScionHealth. "He has been the definition of compassion and excellent customer service for us all. I could not begin to imagine the number of lives that he has saved or touched over the years, but I do know of many that are thankful that he was the one who answered their call."
Matthew Davis, EMS Director of PRMC and St. Clair's supervisor, shared a story about setting up an ambulance transfer for a friend's mother. "I told her I'm going to send Doug St. Clair," he recalled. "She said, 'Oh my gosh, he's a jewel, thank you so much.'''
"Everybody in the community knows who Doug St. Clair is," added Davis. "I believe I provide an excellent level of customer service, but I have never had someone call 911 and ask for me by name. And Doug has. There is no one else I can think of who can say that."
Doug's exemplary reputation was amplified quite a bit on Nov. 2, when the paramedic of 31 years was honored with ScionHealth's inaugural Monarch Award, presented to the company's exceptional caregivers who consistently go above and beyond to deliver excellent patient care, elevate the patient experience and support their colleagues and their communities.
"I was kind of, 'Whoa!' I was shocked," he said. "I don't really know what to say other than I work with some awesome people."
Compassion in an Hour of Need
Doug's PRMC team members couldn't imagine a more deserving recipient. They said Doug epitomizes the "going-above-and-beyond" standard in his interactions with patients, team members and the community.
In his nomination, for instance, Finch noted the consistent, compassionate approach to patient care that Doug carries on each ambulance run.
"Our patients generally meet Doug in their hour of need, and he will always greet them in the same manner," wrote Finch. "He will take a knee, look them in the eye, introduce himself and ask them, 'What can I call you?' And, make them feel like they are the only person that matters in the whole world. His ability to connect with patients during times like these truly comes from a sincere and caring heart."
"Doug always starts out – it doesn't matter if he's at somebody's house or in the middle of a wreck – he introduces himself to the patient, explains his role and starts right in trying to fix the situation," said Tammy St. Clair, RN, Doug's wife and nurse manager for PRMC's behavioral department. "I've seen him hold hands with elderly patients who come in and are scared. And, I've seen him listening to patients talking who were making no sense, but he could tell they had something important to get out and he would sit and listen."
'The Go-To'
Doug's care often doesn't end at the emergency room. He's been known to collect money and pick up groceries for patients who need them, or even cook meals for patients. He checks back in on patients after they've left the emergency room. And if he picks up a patient and sees children at the home, he is quick to make phone calls to make sure they have necessary resources.
"We all care for our patients, but there is another level of caring that Doug demonstrates day in and day out" said Davis. "His ability to interact with patients and make them feel like they are the only person in that moment is extraordinary."
Davis says Doug has a similar caring approach with the members of their team. "He's attentive to our staff when they are having issues, and he does try to address, or makes me aware so that I can speak with staff about those issues. There aren't that many people who do that now to that degree."
Jennifer Robertson, HR Director for ScionHealth's Texas community hospitals, described Doug as a sounding board and "stronghold" for fellow team members. "He will listen, and he's the vault if they need to debrief or decompress at the end of the day," she said. "Whether it's work or personal, Doug is the 'go-to.' He's kind of a father figure to a lot of folks."
And, when a drought hit the community this year, you can guess who's farm put up others' cattle or delivered hay to other farms ‒ the St. Clairs'.
"Doug is a true giver from the get-go," said Tammy St. Clair. "He is very supportive of people in the community. Doug became a paramedic because he wanted to help people and he wanted to make a difference in what he did."
He also stayed a paramedic for more than three decades ‒ about four times the length of a typical career as a paramedic ‒ to continue making that impact. His colleagues hope that receiving the Monarch Award gives Doug satisfaction in knowing that he has not only made a difference, but he has done so in a manner that's exemplary in a company of over 20,000 employees.
Giving Doug his Due
"Doug is not big on being in the limelight, so when he finds out he's won, he's going to be very embarrassed ‒ he's going to be very red," laughed Tammy St. Clair. "But for all the times that he's told me, 'Tammy, I've got to get to work, it's all about the people, it's all about the community, it's all about the service' – this shows that eventually when you work hard enough, it pays off. I'd tell Doug to enjoy your award, enjoy your day. Because on this day, it's somebody else's time to do a service for Doug."
"You represent us and everything good about what we do and you are one of the most excellent people we can send to do this," added Davis, about his humble co-worker. "So, I'm going to ask you to be uncomfortable for a little bit, and let people know who you are. You've given 31 years to a career that's exceptional, and you are certainly deserving of this honor and respect."
After more than three decades and tens of thousands of emergency runs, Doug has never doubted that being a paramedic was worth the ride. He says an affirmation, be it from a former patient or an award like ScionHealth's Monarch Caring and Community Award, make the journey even sweeter.
"Back in the mid-1980s, I made a pact with God that I was going to -- I was working in oil fields as a contractor – that I was going to make a change, and He ended up putting me on an ambulance," said St. Clair. "Every now and then, you have somebody come up (who was a patient). I was walking through Walmart, you see a young person walk past you, then you see her stop and run toward you and hug your neck and thank you. I'm like, 'Who is this?' She was in a car wreck, and I coded her at a stoplight. How the hell does she even know who I was? But every now and then, once every three or four years, you'll have somebody (approach you) that you made a difference with. I love every one of my patients, don't get me wrong, and I love the chance to help them, but it's little things like that that keep me going, even though my knees hurt and I'm getting a little old."
Nearly 300 caregivers from ScionHealth's 79 hospitals across 25 states were nominated for the honor which includes a cash prize, framed certificate and crystal award. St. Clair and Cathy Hitch, a respiratory therapist at Kindred Hospital Albuquerque, were the 2022 recipients.
Read All Posts