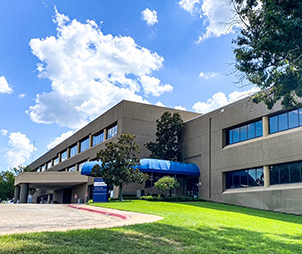 Palestine Regional Medical Center (PRMC) provides two facilities. PRMC Hospital & PRMC's West Campus, including behavioral health. For over 60 years, the citizens of Anderson and surrounding counties have depended on the healthcare facilities in Palestine. Serving approximately 100,000 people, PRMC provides 150 beds with highly skilled staff of healthcare professionals. A full range of comprehensive care is offered including the latest in diagnostic, therapeutic and rehabilitative services, both on an inpatient and outpatient basis. Over 500 employees and volunteers work closely with the medical staff, which includes over 70 physicians representing 28 different medical specialties.
Three highly-skilled obstetricians demonstrate PRMC's commitment to family centered maternity care, as well as the provision of an 11,500 square foot Birth Place, which offers mothers and their newborns quality care in a homelike atmosphere. The Birth Place offers a separate entrance to allow parents easy access to one of the four spacious labor/delivery/recovery rooms. Although surrounded by the comforts of home, each suite is equipped with the latest obstetrical equipment.
Our surgery staff physicians specialize in urology, gynecology, orthopedics, otolaryngology, oral maxillofacial, gastroenterology, as well as general and vascular surgery. They can perform leading edge procedures including laser surgery, laparoscopic and endoscopic procedures. Other staff physician specialties include endocrinology, rheumatology, oncology/hematology, podiatry, psychiatry, ophthalmology, cardiology, otolaryngology and pain management.
PRMC's Emergency Department is staffed 24 hours a day by emergency physicians and specially trained nursing personnel. A helipad is available when Flight for Life is needed to transport patients from our hospital. In addition, our Emergency Medical Services is the designated 911 responder for Anderson County. All ambulances are equipped with the most current technology in monitors/defibrillators designed to improve patient care and survival. EMS works closely with area volunteer fire departments and First Responders to provide emergency medical training and area-wide services.
The Center for Wound Care is located inside PRMC's hospital. Staffed by physicians and certified wound care nurses, the Center treats all types of wounds that have not responded to other treatments. This includes but is not limited to diabetic ulcers, venous or arterial ulcers, burns, pressure ulcers, surgical incisions, abscesses or any other skin problems. The Center for Wound Care offers the latest techniques and treatments in wound care management including hyperbaric medicine.
In addition to the acute care services offered at Palestine Regional Medical Center, PRMC's rehabilitation facility offers both inpatient and outpatient rehabilitative services. A multi-disciplinary team approach is used to provide a comprehensive and individualized treatment plans. The Rehabilitation Team consists of physicians, physical therapists, speech therapists, psychologists, dietitians, social workers, occupational therapists and an excellent staff of rehabilitation nurses.
We are committed to the value that a hospital brings to its community. We provide state-of-the-art diagnostic imaging services such as digital mammography, CT, and MRI imagining.
Palestine Regional offers a 'hospitalist' program for inpatient care. A hospitalist is a specialist in the field of internal medicine who cares only for hospitalized patients and works cooperatively with patient's family physicians. They do not have a medical practice outside of the hospital. This enables these physicians to focus exclusively on inpatient care and be available to their patients 24/7.
We continue to recruit new physicians to enhance the service offerings that signal the growth envisioned for the communities we serve and a promise to provide excellence in healthcare to our families, friends and neighbors.