EMS 911 Service
The Palestine Regional Medical Center EMS department is located on the West Campus at 4000 S. Loop 256, Palestine, Texas. Our EMS is the contracted provider for 911 services in Anderson County. We serve the 57,734 residents of our county covering a response area of 1,078 square miles. Our department consists of more that 60 individuals and we staff 40 full time positions to provide continuous (24/7) coverage to Anderson County.
Next Steps
For More Information
Call for more information about our emergency medical services.
Call 903-731-1000
Chest Pain Awareness
Learn more about chest pain awareness and symptoms.
Learn More
Heart Attack Warnings
Learn more about heart attack warnings and symptoms.
Learn More
The department's fleet consists of six units that are equipped at the MICU level. Three of the units are retained within the boundaries of Anderson County to manage emergency volume. Additional units are available to assist in emergency volume or to manage transfer volume from the hospital. All response-ready units are staffed with two person teams, consisting of an EMT and Paramedic. The dispatch center is operated by a certified clinician, EMT level or higher.
Community Leadership and Support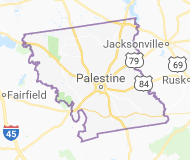 Our Emergency Medical Services team is very active in the community. Our ambulances are often stationed on standby, when available, to support civic, organizational, and community events including the annual Dogwood Festival, Chuck Wagon Races, Hot Pepper Festival, rodeos and football games to name a few. In other events our staff may provide an educational component including hands only CPR.
In March, Palestine Regional's Emergency Medical Services participates in Safety Town, a program of Palestine's Rotary Club. Safety Town is designed to educate young children about safety in many situations. Law enforcement, emergency personnel and others join together to support this annual initiative. PRMC's EMS personnel talked about the importance of ambulances in our community and how the vehicles keep patients safe inside while transporting them to the hospital.
Telephone Numbers
Please call 9-1-1 for all emergencies!
Ambulance Dispatch:
Anderson County - (903) 729-0811
Transfer Line - (903) 731-5016
Hours of Operation
Ambulance (Emergencies and Non-Emergencies) 24 hours a day.