Community Leadership and Support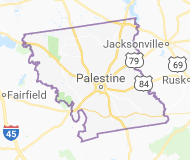 Our Emergency Medical Services team is very active in the community. Our ambulances are often stationed on standby, when avaialable, to support civic, organizational, and community events including the annual Dogwood Festival, Chuck Wagon Races, Hot Pepper Festival, rodeos and football games to name a few. In other events our staff may provide an educational component including hands only CPR.
In March, Palestine Regional's Emergency Medical Services participates in Safety Town, a program of Palestine's Rotary Club. Safety Town is designed to educate young children about safety in many situations. Law enforcement, emergency personnel and others join together to support this annual initiative. PRMC's EMS personnel talked about the importance of ambulances in our community and how the vehicles keep patients safe inside while transporting them to the hospital.
Telephone Numbers
Please call 9-1-1 for all emergencies!
Ambulance Dispatch:
Anderson County - (903) 729-0811
Transfer Line - (903) 731-5016
Hours of Operation
Ambulance (Emergencies and Non-Emergencies) 24 hours a day.