DAISY Award Winner Q1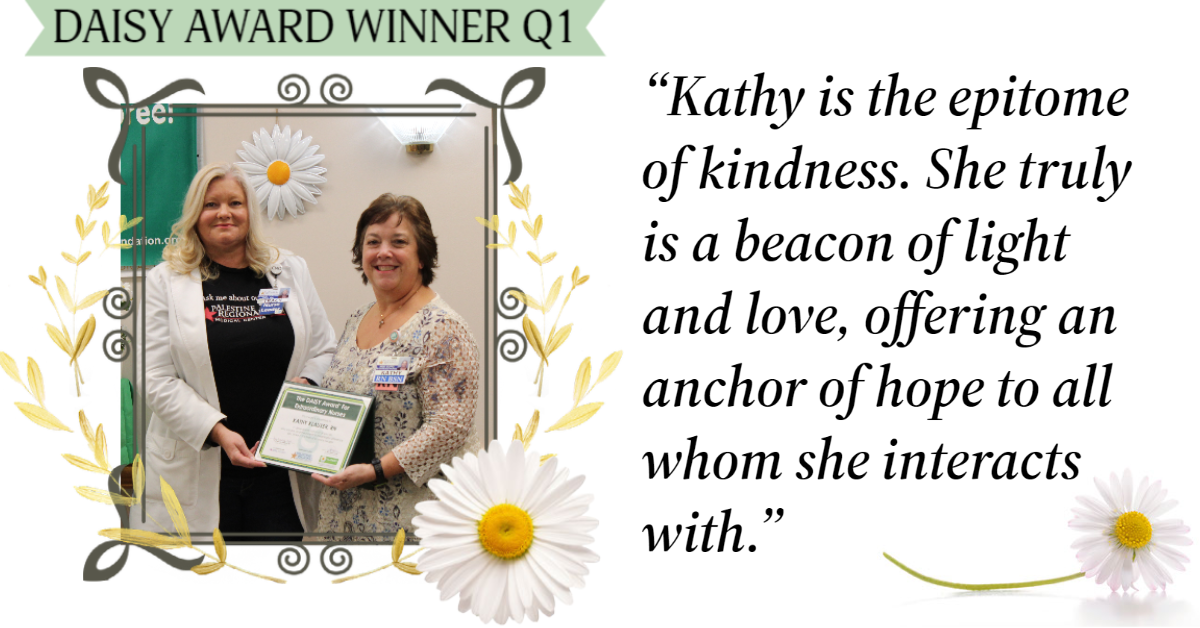 The Daisy Award is part of an organization called the DAISY Foundation. This organization strives to recognize the super-human efforts that nurses perform every day - hence the creation of the Daisy Award.
The not-for-profit DAISY Foundation is based in Glen Ellen, CA, and was established by family members in memory of J. Patrick Barnes. Patrick died at the age of 33 in late 1999 from complications of Idiopathic Thrombocytopenic Purpura (ITP), a little known but not uncommon auto-immune disease. The care Patrick and his family received from nurses while he was ill inspired this unique means of thanking nurses for making a profound difference in the lives of their patients and patient families.
Palestine Regional Medical Center recently honored the winners of the Q1 and Q2 awards. Kathy Klauser, RN, is the recipient of the Quarter 1 award. Below is what one of her patients wrote about the care she received from Kathy while in the hospital:
"Kathy is the epitome of kindness. I was all alone. I had no one to do my laundry, so Kathy did it. I had no one to heat up my meals, so Kathy came to my rescue. She is unfailingly cheerful and merciful, unflappable amidst chaos and deep pressure, and resolutely seeks out the best in any and every situation. She knows nothing is impossible for the Lord and injects that blessed assurance into others. That's what Kathy did for me. As I attempted to ward off the terror and tears from a PTSD-induces panic attack, she single-handedly talked me off my "ledge of horror". Kathy's calm voice guided me back to the present. No wonder she is a hot favorite amongst other nurses and patients. She truly is a beacon of light and love, offering an anchor of hope to all whom she interacts with."
Read All Posts